Gretton Primary supports #HelloYellow to raise funds for Young Minds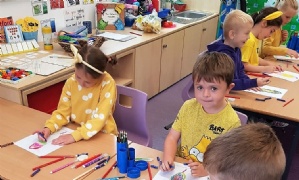 Thanks to everyone who came along dressed to support the #HelloYellow campaign and raise funds for the Young Minds charity.
Teacher Genevieve Hearne said: 'The day was all about checking in on the children's mental health and wellbeing. It was a lovely day for the staff and children and we each decorated a feather that we will display as the outline of a butterfly. This was chosen so the children can understand that they can be whatever they want to be and do whatever makes them happy. We explained to them that it's okay to be different and if you want to do something a little differently to your friends that's okay, in the same way that butterflies are all a little different.'
To see a gallery of pictures click
here
.