A Visit from Chris Allton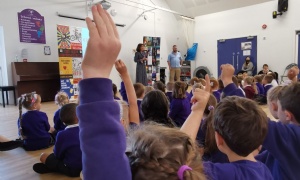 What a day! Chris Allton captured the creative side of our pupils.
On Wednesday 22nd September, we were lucky enough to be visited by the author Chris Allton.
To start the day, the whole school enjoyed an assembly hosted by Chris Allton, where he spoke all about his books, the life experiences that led to the ideas behind the scenes. We learnt that a few of the books have a character named after his daughter, his main inspiration. Not only does he write children books, but he has also created a collection of journals to write in based on various hobbies.
Throughout the day there were workshops for our classes:
Rowan and Oak picked random items out of a sack to make a story on the spot.It was so random, it's hard to remember it, but it went something like....
Blayze the Caterpillar ate a fried egg and went to the doctor. The doctor used scissors and cut open her tummy and found keys. An astronaut wearing a red bow tie met Blayze the Caterpillar at the doctors and said the keys opened up a treasure chest. Then the astronaut went back to space and Blayze the Caterpillar wanted to go too, so she turned into a butterfly and flew away.
Ash and Willow did some fabulous creative writing in today's workshop, they had to come up with 2 characters with opposite personalities. Based on the book "terrible teacher" by Chris Allton.
Maple and Sycamore wrote inspirational quotes that they created and can put together to be their very own class book. Based on the book "Be Kind Kids" by Chris Allton
Thank you for all the support from parents. It was much appreciated by all.