Diving session at Corby International Pool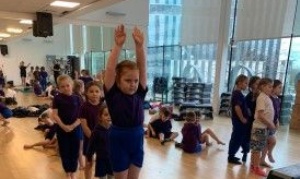 Recently 28 children from Years 2 to 4 went for a 'come and try' diving session at Corby Pool.
The children were tested for their strength, agility and flexibility by trying out a variety of somersaults, stretches, handstands and much more in the fitness suite. They were then taken down to the pool and put through their paces by having to demonstrate dives, back flips and tummy rolls! Some even managed to jump off the diving boards at the end!
The children were magnificent, and many faced their fears just being in the water at the deep end. I was so proud of their grit and determination, and the instructor said they were the best behaved (and well-mannered) group that they had had. Mrs MacDonald was very proud when we got back! My favourite comments of the day were "Will we take our clothes off when we dive?" "Will we get wet?" and "Where's Walter?"
Mrs Block (A very proud P.E. leader)