Road Safety Workshop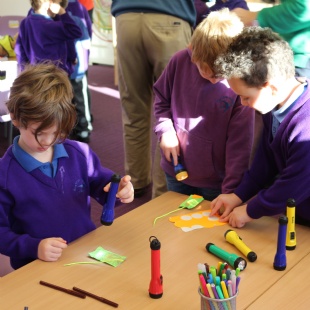 To support National Road Safety Week, Oak class took part in a workshop with Corby Borough Council and Bright Kidz Social Enterprise.
To support National Road Safety Week, Oak class took part in a workshop with Corby Borough Council and Bright Kidz Social Enterprise.
The day started with an interactive presentation from Corby Borough Council representative Susan Preston. She told the children about this year's road safety theme 'speed down' and informed them of dangers and ways that we can get cars to slow down through a variety of photographs and anagrams.
Alison Holland, Managing Director of Bright Kidz, a company that produce road safety products and promote walking and cycling to school, then organised an arts and crafts practical workshop. The session reinforced some of the messages from Susan's talk. The children learnt the difference between florescent and reflective by making a tag to go on their bags. To test that the tags were both florescent and reflective and would be seen not only in the day but also at night, the children used torches and dark boxes. To finish the workshop, the children were able to try on a range of Alison's products and heard a story about a rabbit that learnt to wear bright clothing to be seen.
Susan said 'This years theme is 'speed down'. Road safety is a key community whilst locally speeding is across rural areas. I regular attend schools in rural areas to provide road safety education activities. This year we have developed a partnership with Bright Kidz Social Enterprise to run some more practical learning sessions with the students.
'We think that children are the best educators for their parents and carers and want the children to go home and share the key messages they have learnt from the session. We hope this encourages parents and carers to review and improve their driving behaviour by being responsible and driving within appropriate speed limits. Overall we want to highlight the impact of speeding in our community and make sure people feels safe.'
Alison said 'In 2003 I helped start a Walking Bus Scheme (when children walk to school in an organised group usually wearing reflective, fluorescent jackets) at our local primary school to reduce traffic and encourage more children to walk to school. After seeing the success of our own Walking Buses we set up an information website to help to other parents who were interested in starting a walking bus at their own child's school. we also realised the potential for high vis products beyond our local school in Northamptonshire set up as a social enterprise worker co-operative and launched Brightkidz in 2004.
'We aim to promote walking and cycling to school due to its health benefits and as well as road safety. We support other's intatives and provide educational programmes and resouces.'
To find out more about the work Alison and Bright Kidz do and to view their products please click here.