Gretton team placed second in the Believe Big Primary competition!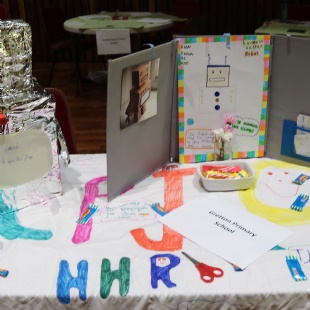 Well done to the Homeless Helper team from Gretton Primary whose great idea scooped second place in this year's Trust Primary Believe Big competition.
Well done to the Homeless Helper team from Gretton Primary whose great idea scooped second place in this year's Trust Primary Believe Big competition.
Three teams from our school took part in the competition, where they battled it out to see which of the 15 Trust teams had the most innovative idea.
Many of the teams came up with philanthropic ideas to help the homeless, the vulnerable or the environment. Here's what our teams invented:
CPJO team comprised Caitlin, Phoebe, Jessica and Oonagh. They developed the Homeless Helper robot which will dispense a care pack containing a first aid kit, book, food and tissues. Phoebe said: 'My favourite part of the project is that we would be helping homeless people.' Caitlin said: 'It is being kind to people because they deserve a life like us.' Jessica said: 'My favourite part was helping to make the poster.'
George, Henry and Noah's team was Helpful Handy Dog. Henry said: 'It is a robot dog on wheels and help disabled people by storing things like toothpaste, keys and money or it can even make a cup of tea. We thought of it as a team, it is voice activated and we all helped to make the model.'
The Turtle Litter Picker was invented by Fin, Anya, Izzy and Emily. It is a litter picking machine for the ocean. Fin said: 'I am very interested in wildlife and really annoyed about what is happening to all the animals.' Anya said: 'It was fun because we are all so passionate about the oceans and wildlife and it was really fun to create it. I believe it can change the world.'
Izzy said: 'It is a perfect idea because nobody wants litter in the ocean. They want to have a fun time on the beach and swim around.' Emily added: 'I like this idea because it will save animals, the ocean and the planet.'
David James, Lead Facilitator from 7 Billion Ideas led the finals: He said: 'The children have got so much out of it already. These are children who are creating ideas, seeing those ideas recognised. What we hope now is that they take their ideas and thought processes back into the schools and encourage other children to do it as well. I am hoping to see a lot of these children in the secondary competition in four or five years. What is important is that it is a whole school process. Everyone in that school has developed ideas for the Believe Big project.'
The judges comprised Leyton Smith, BWT's Primary Executive Principal, Corby Business Academy's Principal Simon Underwood, Angela Reynolds, Principal of Corby Technical School and Debbie Tysoe, the Trust Finance Director.
Announcing the winners Mr Smith told the students: 'I think every one of you who has contributed to today has done amazingly well. That medal that you are wearing around your necks says that you have put in a huge effort. I honestly don't know where you get your ideas from. They are unbelievable. The creativity that you show, the posters you have designed and the way you have presented yourselves today has been really impressive. The judges found it incredibly difficult to decide on the results.'
To see a gallery of pictures from the event, click here.