Big, fat salt and pepper breadsticks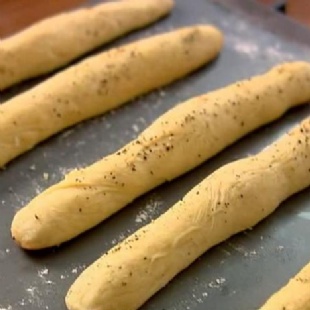 The best way to serve these breadsticks is with dips such as hummus, taramasalata and guacamole. Mini-sticks can be fun as canapés for a dinner party.
Preparation time - less than 30 mins
Cooking time - 30 mins to 1 hour
Dietary - Vegetarian
Ingredients
Method
Dust two large baking trays with flour.

Put the flour, yeast and the salt into a large bowl and add enough of the water to make a soft but not sticky dough. Knead well for 10 minutes by hand on a lightly floured work surface or for five minutes if using an electric mixer fitted with a dough hook.

Divide the mixture into 12 equal portions, each weighing about 60g/2½oz. Roll the portions into balls, then place each ball on a floured surface and roll into a long sausage shape about 25cmx2cm/10inx1in. (For the best visual results make the sausage shape an even thickness.)

I like to shape half of them into twists. Run a knife down the centre to split the dough, leaving a bit at one end uncut. Braid or plait the two halves over each other to give a twisted effect.

Place the breadsticks on the prepared baking trays, spacing them 4cm/1½in apart. Cover the breadsticks loosely with oiled clingfilm, making sure it is airtight. Leave in warm place for 30 minutes, or until the breadsticks have almost doubled in size.

Preheat the oven to 200C/400F/Gas 6.

Remove the clingfilm and brush each breadstick with the extra virgin olive oil. Sprinkle half of the breadsticks with the sea salt and the remainder with the freshly ground black pepper. Bake on the top third of the oven for about 20 minutes, or until the breadsticks are lightly golden-brown and feel firm to the touch. Remove the breadsticks from the oven and leave to cool on the baking trays.
Recipe Tips
Vary the toppings with fresh rosemary and thyme, or sesame and poppy seeds.