Cooking Club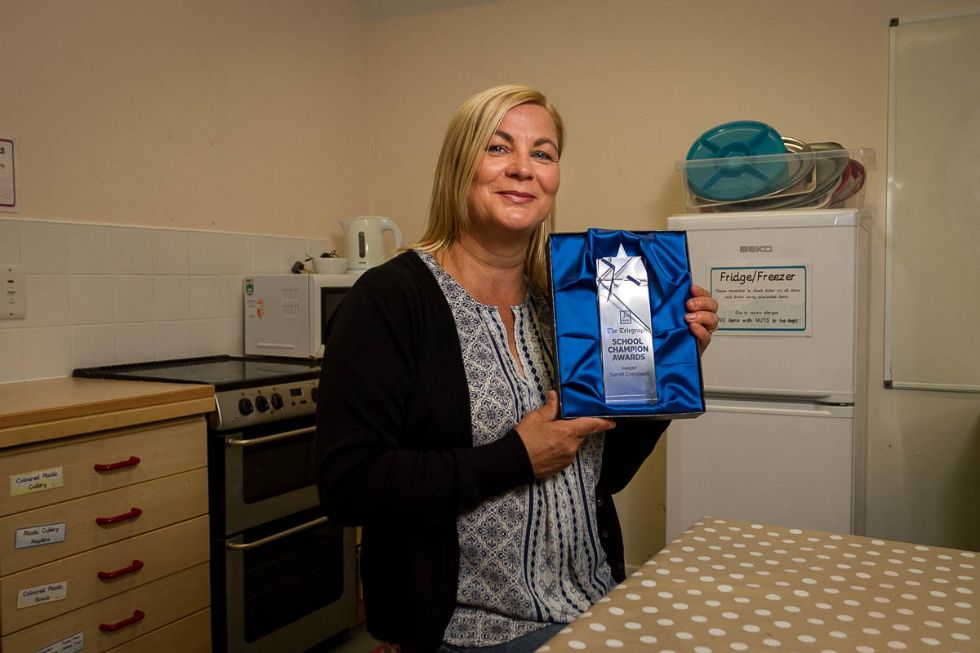 Gretton mum scoops national award
Congratulations to Mrs Sarah Cresswell, who has won a national award for her work with Gretton Primary's after-school cooking club. She was presented with the Daily Telegraph & Aldi People's Champion Award by Olympian Sally Gunnell. She only found out that she had been nominated by Gretton's school business manager, Donna Gillies, when she was invited to the award ceremony at the Telegraph offices in London!
Sarah has been running Gretton's after-school club for the past three or four years and has even paid for ingredients out of her own pocket when the budget has run out. Her hard work and commitment to teaching cooking skills and making healthy dishes impressed the judges and she was even asked for her legendary recipe for tomato sauce which may be published in the Telegraph's Weekend magazine!
She said: 'We went to the Telegraph offices and I was presented with the award by Sally Gunnell and a representative from Aldi. The nutritionist fought my corner because I was a parent and do healthy options with the class. I produce my own tomato sauce which can be adapted for lots of recipes so I emailed the recipe over to her and she is going to publish it.
'Getting nominated and actually winning was a bit of a shock! Sally Gunnell was lovely and so down to earth. Everyone made me feel so special and welcome, they were absolutely lovely. There were five categories in all and all the other winners were there. As well as the trophy, which will go on my mantelpiece I also won £500 prize money.
'We used to teach cookery skills to 12 children for the entire year but it has been so popular that we have different children every term because there is a waiting list. Cookery club takes place every Tuesday evening from 3.15 to 4.45. We do traditional recipes like soup, sauces and sweet and savoury pastry. I encourage the children to eat what they have made and they also take their food home so their parents can see how they are progressing.
'We use the creative studio and we all stand around the table and if the kids have a problem they come out and share it with the group so, as well as cooking, it is a bit like therapy! We have children from Year 1 up to Year 6 and they area absolutely brilliant and really pay attention, particularly when we are using sharp knives. Cooking is a skill for life and I was brought up from an early age to cook, sew and learn practical skills so this is a way to pass them on.'