Easy Vegetable Rice Medley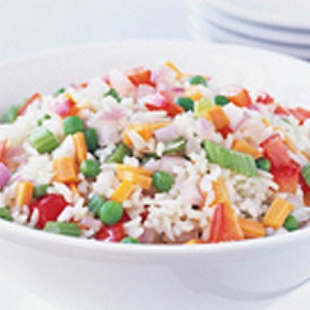 Believe it. Only 20 minutes for a mouth-watering rice mix with gorgeous colour.
Servings
4 servings, 1 cup (250 mL) each
Ingredients
1 Tbsp. canola oil
1 cup chopped onions (about 1 medium)
1/2 cup chopped carrots (about 1 medium)
1/2 cup chopped celery (about 1 stalk)
1/2 cup chopped red peppers
1-1/2 cups 25%-less-sodium chicken broth
1-1/2 cups instant white rice, uncooked
1 cup frozen peas
Method
Heat oil in skillet. Add onions, carrot, celery and peppers; cook 5 min. or until tender.
Add broth; bring to boil.
Stir rice and peas; cover. Simmer 5 min. Remove from heat. Let stand 5 min. before serving.